PAST EVENTS
Madeline Black 5 Day Immersion
May 17 - May 21 @ 10am - 5pm
Madeline Black returns to NYC to offer an opportunity to work with her intensively at Studio 26 in NYC.
She will reference her book "Centered" and add advanced movement skills that create instant, positive changes in the body.
Experience first hand the Madeline Black "Centered" techniques, movement science in motion, and receive personal feedback that will deepen your capabilities as a movement specialist based in Pilates, Yoga, Gyrotonic®.
3D Pilates
with Blossom Leilani Crawford + Marshall Hagins
Part I: webinar March 31st, 1-3pm, $150
Pat II: Studio 26, Sunday April 15th, 9a-4pm, $350
Early-Bird Special: $450 before March 15th!
3D Pilates is a collaboration between two movement nerds: Blossom Leilani Crawford CPT, second generation Pilates teacher, and Marshall Hagins, PhD, PT. Combining the passionate curiosity of a Pilates teacher with the technical skills of a PT. 3D Pilates presents intelligent and organized courses expanding the ability of the Pilates instructor to see, describe, and cue motion in three planes while encouraging and supporting learning in a non-intimidating environment.
In this full day lab course you will learn how to identify the most common asymmetrical spinal movement preferences in 3 planes and how to provide practical, safe and concise cues to help correct or modulate those preferences to move the client to increased symmetry of movement potential. These strategies can be used for all clients regardless of ability or fitness level.
Part 1 of this two-part course is online instruction via several short videos teaching how to see and describe 3D movement of the spine, how to perform movement tests to determine your client's spinal movement preferences, how to perform movement cues to address your client's preferences, and how to integrate cues and modify Pilates exercises to move your client toward more symmetry. Part 1 can be used alone to inform your practice, although most participants find attending Part 2 provides real world practice and solidifies knowledge and skills in order to use the techniques immediately with clients.
Part 2 is a full day lab course with Blossom and Marshall. Part 1 information is used as a framework as participants identify each other's spinal preferences and practice applying the cues and principles to improve symmetry using a wide variety of Pilates exercises.
KINETIC CONTROL with MARK COMERFORD
hosted by F Squared Physical Therapy
CENTERED: Practice with Jennifer Sokolov
PILATES MAT CERTIFICATION via BALANCED BODY
with Joy Karley
ANATOMY TRAINS
FOR MOVEMENT PROFESSIONALS
with Laurie Nemetz
JEAN-CLAUDE WEST LABS
Tuesday February 27th
1-4pm
+
Monday March 5th
1-4pm
$250 for one Lab
$395 for both Labs
He's back: two chances to work intimately with Jean-Claude West.

Only 10 spots available in each Lab, so jump on this if you want to engage wizardry in action!

Jean-Claude will be guiding the group to environments that elicit motor-control and enhanced neuromuscular balance in specific isolated and related regions of the body.
www.jeanclaudewest.com
JEAN CLAUDE WEST WORKSHOPS:
Wednesday, March 22 1-4 pm
Scapular Thoracic Adaptation to Trunk Rotation Preference
and
Friday, March 24 1-4 pm
Thorax Translation (Side Flexion of Lumbar Spine)
One lab: $195
Both labs: $350
We're thrilled to again offer an in-person learning opportunity with Jean-Claude West for qualified Pilates, Manual Therapists, Physical Therapists, Massage, Personal Trainers et al.
A 3D APPROACH TO KEY RELATIONSHIPS BETWEEN THE SCAPULA, THORAX AND PELVIS: Utilizing Visual and Modular Aids to Understand Mechanical Relationships, developed and taught by Jean-Claude West.
These Labs will focus on the relationship of the scapula, pelvis and spine in multiple environments, functional movement patterns, and loaded vectors. Direct the objective of movement retraining from skill acquisition to true change within the individual's motor control.
To Register: 646-755-8125 or desk@studio26nyc.com
BALANCED BODY TEACHER TRAINING
MAT II with
Joy Karley
APRIL 1ST + 2ND, 2017
9a - 6p
REFORMER II WITH LESLEY POWELL
MARCH 18TH + 19TH, 2017
12pm - 8pm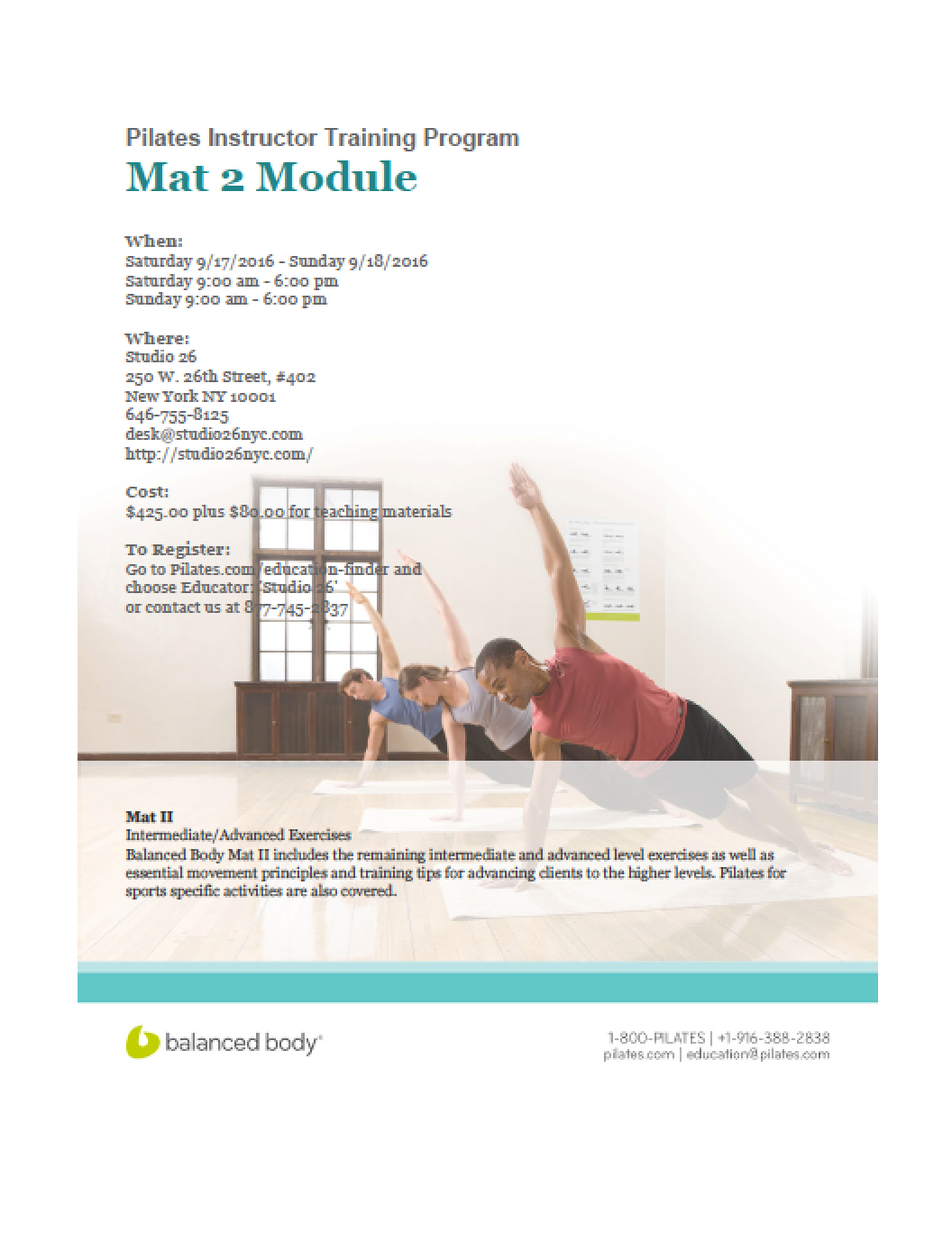 Mat II with
Joy Karley
SEPTEMBER 17th + 18th, 2016
9a - 6p
JEAN-CLAUDE WEST WORKSHOP
JULY 30th + 31st, 2016
10a - 5p
THE SPINE BY DESIGN
with Madeline Black
Saturday + Sunday, March 19th -20th 2016
10 am - 5:30 pm
SEMINAR + BOOK SIGNING PARTY
with Madeline Black
Friday March 18th 2016
2:30 - 5:30 pm + 6:00 - 8:00 pm
LUNCH LAB WITH F2PT
Every 2nd Thursday of the Month
2 - 3 PM, 2016
GREEN DRINKS AT STUDIO 26
Tuesday January 12tH 2016
6:30-9:30 PM
FALL TRAINER PARTY
Friday November 20th 2016
Why wait for Thanksgiving? Join us for fall drinks & snacks: come kick back and hang out with your peers!
To host an event at Studio 26, contact us.
HAPPY 5TH BIRTHDAY STUDIO 26!!!
Wednesday August 5th
We're so excited to celebrate 5 amazing years since we transformed this empty space in Chelsea into a healthy space for healthy bodies.
Join us for Drinks, Snacks, & Dancing!!!
C.H.E.K. INSTITUTE TRAINING PROGRAM
July 24-26, 2015
The C.H.E.K Institute's Advanced Training Programs are designed for exercise, therapy, conditioning and health-care professionals who are ready to take their careers to the next level. These live programs are not for those who just need continuing education credits to renew their certification, but are designed to stimulate and stretch your mind, multiply your skill-set, provide you with advanced training techniques and set you on the path to becoming one of the top professionals in your field. These Advanced Training Programs stress the importance of understanding the unique requirements and challenges of each individual, as a whole. This holistic, integrated approach to training and conditioning ensures optimal results, further enhancing your earning potential.
For more information, visit http://chekinstitute.com
BODHI SUSPENSION SYSTEM TRAINING
July 18-19, 2015
Taking the body out of alignment with gravity fires the core stability muscles and develops integrated, whole body strength. Bodhi offers 4 points of suspension to maximize stability training and proprioception. Learn the essential Bodhi exercises and how to create balanced class sequences using Balanced Body's unique track system.
CECs: ACE, PMA
Instructors: Joy Karley
Class Fee: $475, Materials fee: $75
For registration, visit: http://bbu.pilates.com/gamma/registration/bbu-registration1.aspx?EducatorID=930&CSID=18658